We understand your struggles (we were like you, too), so we put together features that can help you manage your time at work more easily, healthily and sustainably.
Keep track of time at work easily
Two timer modes are available for you — automatic mode to track time in the background while doing your tasks and manual mode to create and save time tracking at specific start and end times.
Don't worry about losing your tracked time — Toro helps you to remember them right from the start. Staying consistent with your time tracking will also allow Toro to analyse and give you insights on your work patterns.
The time bar allows you to visualise your day at a glance. It will also show all of your daily scheduled meetings and tracked tasks. By the end of the day, your time bar will be filled with colours (you can personalise them, too!), reflective of all the tasks you've tracked.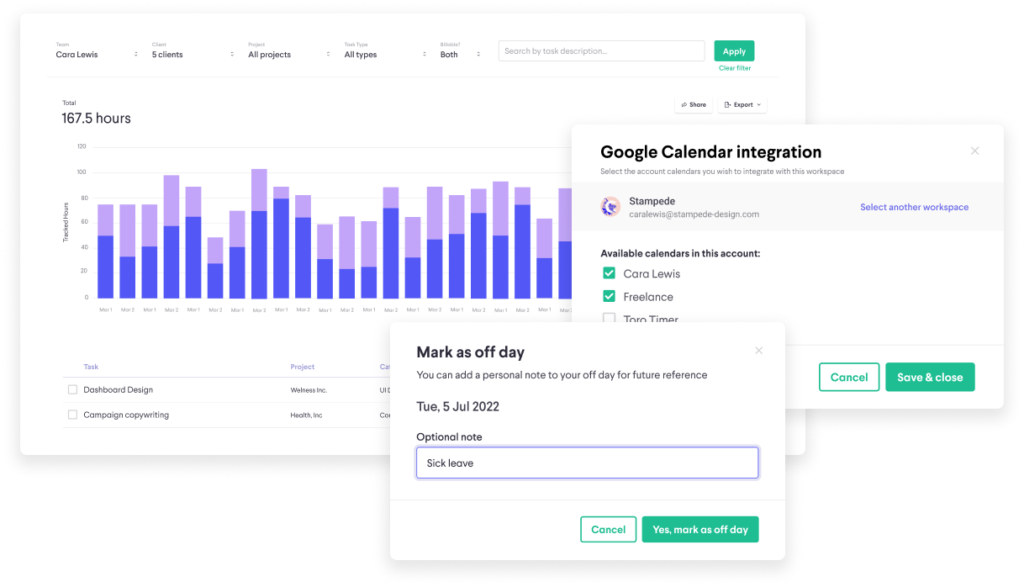 Analysing your tracked time can be overwhelming. We made sure that Toro simplifies this process for you, showing the breakdown of your tracked time. Report sharing is now easier than ever too. Simply click the "Export" button and select your preferred report format to be downloaded.
Time tracking can be tedious, but it doesn't have to be. With calendar integration, your work meetings from Google calendar are automatically synced and logged as Toro tasks. All you have to do is save them and carry on with the rest of your day — it's really that simple.
If you've taken a day off from work, simply mark it as an off-day and write a quick note for future reference (it's optional so feel free to leave it blank too), and Toro will help you to keep track so you don't have to. There's no rush though, you can mark it the following day too!
Manage your projects and tasks
Congratulations on landing a client! Kickstart by introducing the client's company and project name in Toro. As your business grows, you can keep adding more clients to your workspace because there's no quota for this — it's unlimited! 
This allows you to organise and group related projects easily. Need more workspaces under a single Toro Timer account? A Toro Pro plan is the solution for you because you'll get unlimited workspaces with a Pro account!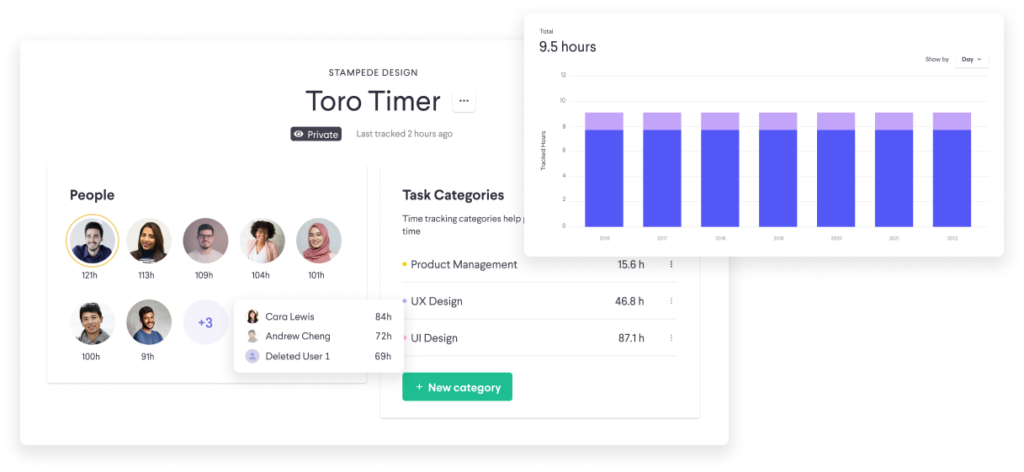 Here's where you can create one or multiple projects for every client introduced in Toro. If you are a manager or working in a team, look for a Team plan (coming soon!), so you can add different collaborators under a project. This plan also allows you to see the total time spent by individuals or as a project team.
You can assign your tasks under a specific project and category, allowing you to define the task as billable or non-billable. This way, you'll see how you spend your time throughout the project and understand how efficient you are with your tasks.
Understand how your time is spent
If you are charging your services based on billable time, Toro allows you to track the exact hours you spend working on a task, be it billable hours or not. This feature ensures that the time you spend (not forgetting the blood, sweat, and tears) working on a project are seamlessly tracked and calculated for billing your clients.
Focus hour is a window of time that you carve out for yourself, where you achieve a flow state and do your best work. We recommend these time blocks to be at least 1.5 hours and no more than 4 hours long to help you achieve a healthy and productive workflow.
We understand the many meetings you might have in a day — manually tracking every single one of them is a hassle. But don't worry, we've got you covered. Toro supports integration with your Google calendar and this means that your scheduled meetings are pre-captured as Toro tasks. All that's left to do is to save these tasks with the click of a button!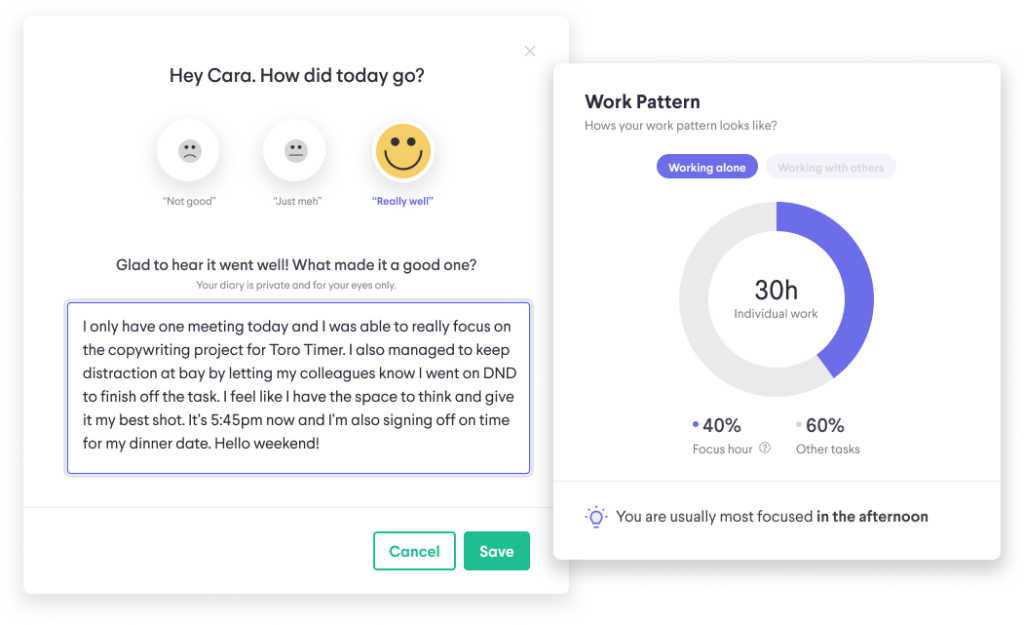 Had a good or not so good day at work? You can rate how your day went and write a diary entry to organise your thoughts and feelings about what happened. We know diaries are personal, so these entries are kept private and available for your eyes only.
Curious about your work patterns? Toro allows you to discover your best working times (when you feel most focused and energised during the day), as well as how you've utilised your focus hours, meetings and other tasks, whether individually or alongside team members.
Keep sustainable working habits
Your work pattern analytics are most accurate when you're consistent with your time tracking. However, we get that it  can be challenging being consistent with tracking every single task, so we created Toro to make this whole process hassle-free for you.
Weekly and monthly insights
Wonder how you've used your hours and whether you're becoming more efficient over time? Toro provides insights on how and what you've spent your time on over the week and month. This means that you can analyse and measure both your short and long-term work performance.
Dedicating time to focus on the task at hand makes it easier to improve your work processes, be efficient, and get more done in less time. With Toro, you can identify your best time to focus (based on your recent time tracked), increase your productivity and organise priority tasks accordingly.